SEWA Samudayik Shiksha Kendra (SEWA Lucknow School)
For educating the children in the community, SEWA had been running a school since 1982 known as, SEWA Samudayik Shiksha Kendra that began humbly with Nursery classes for artisan's children. Gradually children from the community also began poring in the school and as years rolled by, this school grew with the support of the organization as well as community.
Very special care is taken to track that there are minimum dropouts as many of the children both girls and boys come from low-income families. To keep the stairs of education uninterrupted, the organisaton saw to bridging of the students in formal schools once they have completed their schooling in SEWA Lucknow School. This process of linkage carried on. Every time there was an addition of class, a child would get linked to another school for the next class. In the very similar manner, children are today linked with formal high schools after passing their ninth standard so that they can appear formally for their Secondary School Examination. In 2012-2013 academic session, the strength of students was 261 of which 124 were boys and 137 girls. There were 10 boys and 18 girls who had appeared for class ten board examinations. All 28 students have cleared their examination with one of the student attaining start marks.
The basic idea behind school is, "Education for all" thus, apart from the full fees students, the school also has the provision for admitting students who are from very poor families. Fees for such students are borne by SEWA Lucknow and expenses towards uniform, books and stationeries are met with contributions from all 8 teachers.
Going Green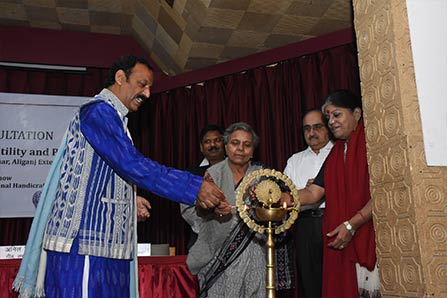 The Switch-Asia Program funded by the European Commission, seeks to promote the economic competitiveness of the Indian textile industry and improve the well-being of textile artisans/weavers. The project aims to build sustainable businesses of textile artisans/weavers and improves their working conditions through efficient eco-friendly processes, access to resources , policy advocacy with around the area and increased demand for 'green' products through the launch of a new line of eco-friendly products and 15/26 Annual Report of Self Employed Women's Association (SEWA) Lucknow for the Financial Year 2014-15 a new certification process 'Craftmark Green' for Indian handmade products verifying there production process. The project brings together a range of partners - including technical service providers, textile producer groups and SMEs.
This project targets over 12,500 artisans/weavers, 250 SMEs, 6 federations and over 150 collectives in 6 districts of two states:
Rajasthan - Udaipur,Kota,Churu,Jaipur (Bagru)
Uttar Pradesh-Lucknow and Varanasi
In Lucknow, SEWA is implementing this program as partner NGO with AIACA, New Delhi. SEWA will be working with around 5000 artisans involved in Chikankari.
Key Objectives of Going Green
Increase in sales and exports of Indian eco-friendly textiles
Improvement in income and well-being of textile artisans
Strategies to Follow for Achieving the Objectives
Building the capacity of textile SMEs and artisans to access resources (including finance and technology)
Implementing efficient eco-friendly processes with textile SME/artisans in target clusters/districts
Advocating for policy changes to support sustainable textile production changes to support sustainable textile production processes
Developing and marketing an eco-friendly line of 'green' textile products through a unique certification process 'Craftmark Green'.
Activities under the Programme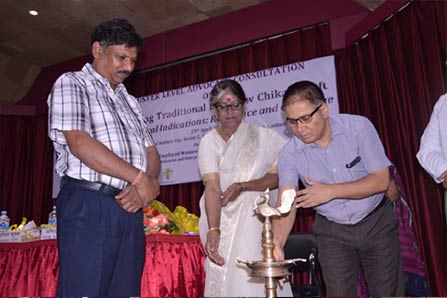 The project seeks to promote the production and consumption of eco-friendly textiles and improve employment and working conditions of artisans. The project brings together a 16/26 Annual Report of Self Employed Women's Association (SEWA) Lucknow for the Financial Year 2014-15 range of partners to conduct action research to provide low cost technological solutions to reduce pollution from textile production. Main activities in the project include:
Activity 1: Textile SMEs and artisans have increased bargaining power/representation at national level
90% of target SMEs/artisans are organized into 150 artisan-based collectives and 6 federations
80% of representatives from the 150 artisan collectives and 6 derations report increased capacity to identify issues and advocate for policy change with government and industry bodies
Strengthened regulatory framework to promote/support sustainable consumption and production amongst SMEs and artisans in the textile sector (including financial resources) (measured through the number of changes in policy and/or improvements in policy implementation that are achieved)
Activity 2: Increased use of efficient eco-friendly processes by textile SMEs and artisans
80% of target SMEs/artisans have understood and see the value in implementing efficient eco-friendly processes.
70% of target SMEs/artisans have adopted at least one change in their production process (e.g. use of natural fibers, installation of an effluent treatment plant, use of safety gear, installation of energy efficient technologies, recycling of waste products, etc.)
At least 60% percent of artisans and SME workers (out of the 70% who have made changes) perceive an improvement in their health as a result of the changes made.
Activity 3: Textile SMEs and artisans (particularly women) have finance and services to build efficient eco-friendly businesses (including access to relevant finance, technology and services)
At least 80% of target SMEs/artisans report that they understand the requirements to access government and private sector schemes that provide relevant services and support
At least 70% of target SMEs/artisans report that they have accessed services, finance or technology (disaggregated by gender) 17/26 Annual Report of Self Employed Women's Association (SEWA) Lucknow for the Financial Year 2014-15
Activity 4: Increased demand for ''Green'' products in domestic and international markets
60% of target SMEs increase their sales by selling eco-friendly products in domestic and international markets
At least 100 SMEs are certified to use the 'Craftmark Green' standard on their textiles products
http://www.switch-asia.eu/projects/going-green/
http://www.aiacaonline.org/going-green
http://www.traidcraft.co.uk/going-green